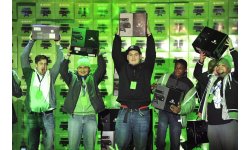 The Xbox One saw "incredible sales" this weekend according to Microsoft. The reason is pretty obvious as people were pushing and shoving – literally in many case – to get their hands on the best Black Friday deals, which also included those offered by the company. Seeing as how the console and various bundles were cheaper than usual during this time, it was only natural that Microsoft should see some pretty good sales. However, it seems that things went even the better than anticipated, with reports claiming that the Xbox One sold out in various retail stores such as Target.
Having said that, according to Aaron Greenberg, who looks after the marketing of first and third party games studios at Microsoft, the Xbox One had an
incredible
Black Friday. "Sales were incredible, grateful for all the support and new fans," he
tweeted
. It will be interesting to see what kind of figures Xbox One did during the sale. Hopefully the next NPD sales figures will give us a broader picture
.
As for the exact numbers, it's difficult to pinpoint them at this time and it's pretty unlikely that Microsoft will reveal anything. If the sales were truly incredible, one might expect the company to come out and brag with some exact figures but they haven't as of yet. However, word on the street is that the Xbox One already managed to sell 8 million units a week before Black Friday even began. This may or may not be the case, although it won't be too far fetched to think that Microsoft was indeed able to manage that feat. Interestingly, the company announced not long ago that more than 10 million Xbox One consoles have been shipped to retailers, which suggests that somewhere around 2 million might have still been available on shelves by the time Black Friday kicked off.
Anecdotally, the Target near me was sold out of Xbox Ones, but fully stocked of PS4s, though they never seem to have much of either when fully stocked. They were doing some sort of deal where it was $330 and you got like a $50 target gift card. PS4s were still just $400.